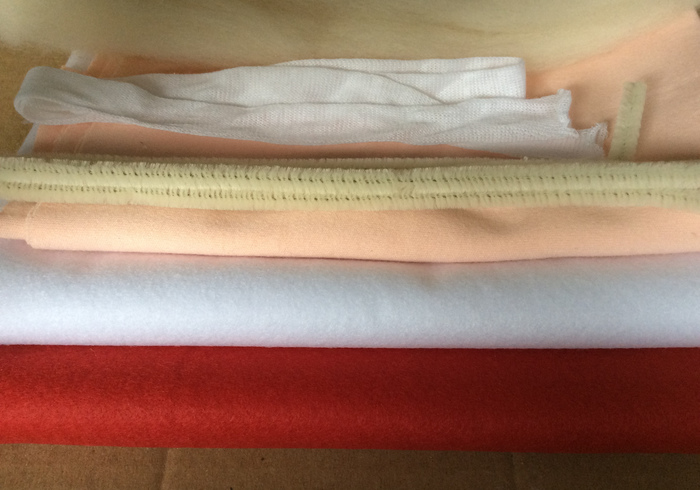 What do you need?
tubing (band aid) 2 cm
sheep wool (to fill + hair & beard)
needle and yarn
cotton yarn, to bind off
piece of tricot, skin colour
pipe cleaners (chenille stick)
red and white felt
embroidery yarn, yellow
yellow pipe cleaner (chenille stick)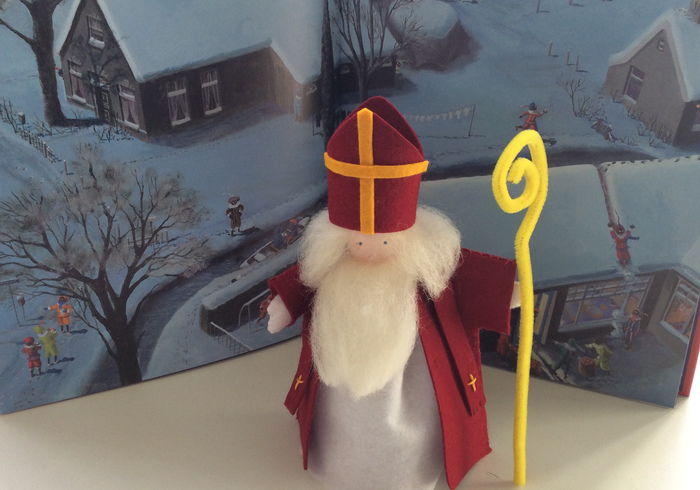 We do not beat around the bush, making a felt Sinterklaas is a lot of work. But when he is finished you feel it was surely worth it. Use our pattern to make the coat, miter and stole or cut them after your own idea, all great!
How to make a Sinterklaas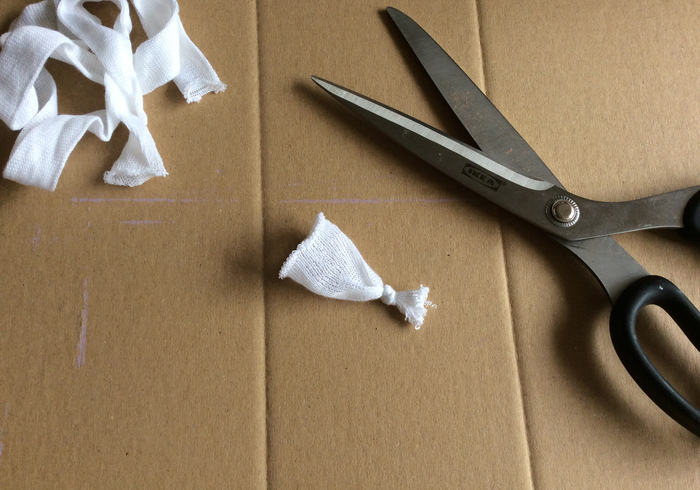 Cut off a piece of tubing, tie a knot at the underside.
Fill up the tubing with as much wool as possible.
Close the top of the tubing with a basting stitch.
Pull the yarn tightly the tie off the thread.
Normally you shape the face by winding yarn in the middle. For sinterklaas we make the top half of the face a little shorter so the bottom half will be a little longer. This gives more room to attach the beard.
Wind a thread around the head, almost in the middle. Tie it off.
Cut a double piece of fabric the width of the head, the fabric stretches.
Sew the long side of the tricot closed using a blanket stitch.
Close the top with a basting stitch, pull tight, tie off.
Put the head inside then bind the underside closed.
Twist a body with legs en twist on loose arms of pipe cleaner.
Stick the top inside the head and tie it off.
Pull the tricot under the arms, tie off again.
Lace a thread through a piece of white felt and pull it.
Measure the felt around the body, the side open.
Give a snip in the other side of the robe for the arm.
Pull the robe closed, tie off in the back of the neck.
Sew the open side closed using the blanket stitch.
Cut out the coat pattern and pin it onto the red felt.
Cut out the felt and pin the coat together.
Sew the shoulders and sides closed.
Cut off a strip of red felt, to make the stole.
Cut the underside of the robe of Sinterklaas wavy and the left side corners on front of the coat round, as indicated on our pattern.
Cut out two white hands with thumbs, use the pattern.
Sew both hands closed, leave the wrist-side open.
Pull off wool for the hair and beard.
DPlace the beard over the head, sew on like in the photo.
Flip the beard back then sew the hair on the head.
Fill the hands then sew them on the arms.
Stick on the cross and sew the miter closed.
Embroider crosses on the stole and roll a pipe cleaner rod.
Give Sinterklaas a face or not, if you prefer. If you do, keep it simple and use watercolour pencils.