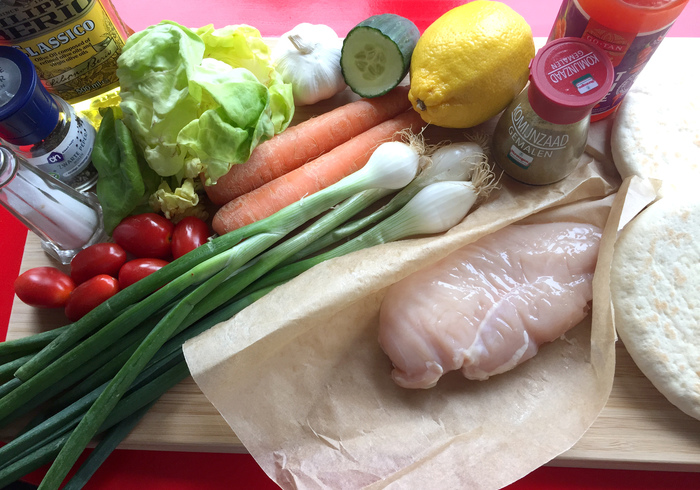 Shopping list
200g chicken breast
1 tablespoon olive oil
½ teaspoon cumin
1 clove garlic
juice of 1 lemon
¼ cube chicken stock
sea salt and freshly ground black pepper
handful of lettuce leaves
handful of cherry roma tomatoes, halved
1 carrot, cut into matchsticks
¼ cucumber, in matchsticks
2 flatbreads
4 tablespoons of hummus or mustard mayonnaise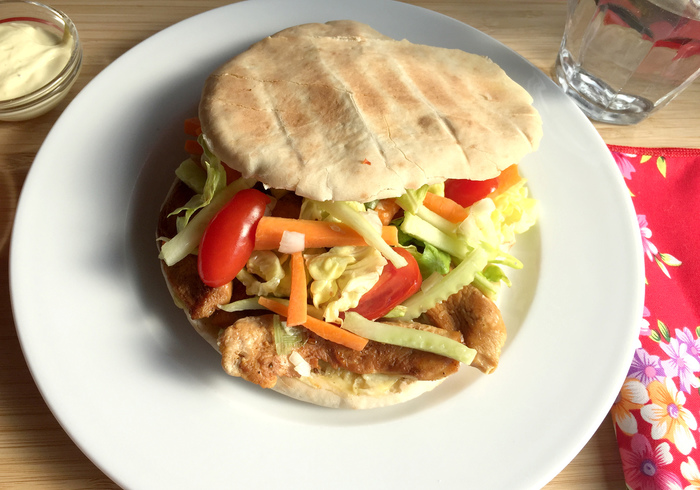 Another delicious picnic bread, but you have to take it in the cooler! No problem, it can be eaten hot but cold it tastes great too. We also like to eat it at home in the garden, straight from the pan, nice and hot. Optionally you can also add hot chili sauce.
How to make Chicken Kebab Flatbreads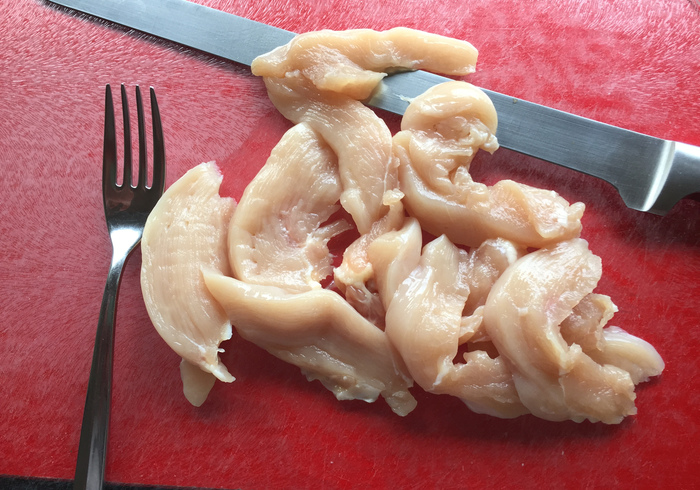 Slice the chicken thinly.
Dry it with kitchen towels.
Stir the olive oil with the cumin, garlic, black pepper and half of the lemon juice until combined.
Coat the chicken with it.
Cover it with cling film.
Let it marinate 10 mins in the fridge.
Cut carrot & cucumber into match sticks.
Wash the lettuce and tomatoes.
Put the salad aside, we're going to bake the chicken
Cut a stock tablet into 4 pieces.
Dissolve it in boiling water.
Heat the frying pan until hot.
Put the chicken and the marinade in the pan then fry the chicken brown on both sides in 2 - 3 minutes per side.
Let the chicken simmer 5 minutes.
Spread hummus on the breads, top with the chicken.
Finaly place generously salad on top.
Give the hummus and / or the sauces on the side as well.