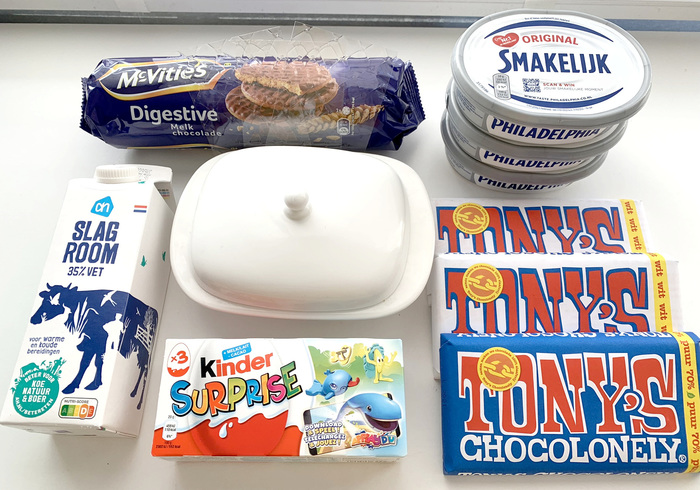 Shopping list
For the base
80g unsalted butter, plus extra to grease
250g dark chocolate digestives
For the filling
3 gelatine leaves
300g white chocolate
300ml double cream
3 x 180g tubs full-fat soft cheese (Philadelphia)
20g dark chocolate
3 surprise eggs, unwrapped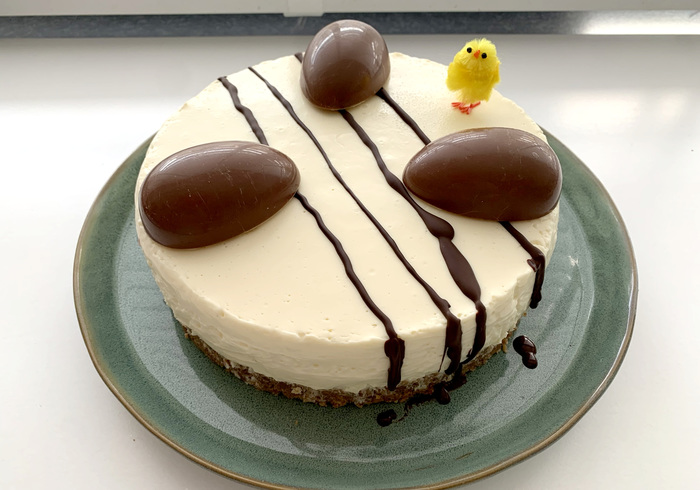 NB! The Ferrero surprise eggs have all been removed from the stores due to salmonella infections. Our cheesecake was baked a more then a month ago, when there was no warning yet. On Easter Day we will use small chocolate eggs from the bakers to decorate our cake with.
For Easter we bake a cheesecake, with chocolate eggs on top for the mini monsters. They are hollow eggs that we carefully break open in halves.
How to make the Easter Cheesecake
Make the base first in a 20cm springform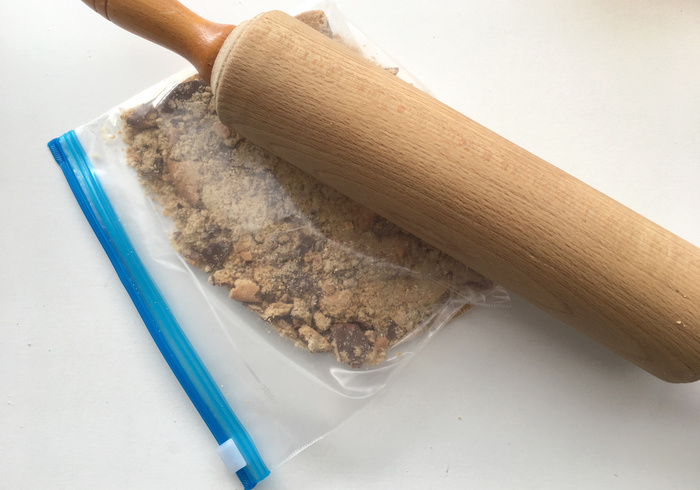 Crumble the biscuits with a rolling pin.
Melt the butter and leave it to cool.
Stir the cookie crumbles until combined.
Line the springform with baking paper
Add the crumbles to the form and press in firmly.
Place the springform in the fridge until needed.
Soak the gelatine leaves 5 minutes in cold water.
How to make the cheesecake filling
Melt the chocolate au bain marie, stir briefly.
Remove the chocolate from the heat, cool slightly.
Stir the melted, cooled chocolate into the cream cheese.
Pour the cream in a sauce pan, heat until just steaming.
Remove the pan with the cream from the heat, then stir in the squeezed out gelatine
Let the gelatine / cream cool slightly.
Whisk the cream into the cheese mixture.
Pour the filling into the prepared springform.
Place the cheesecake in the refrigerator
Let the cheesecake set for at least 5 hours.
Break the eggs gently in half.
Remove the cheesecake from the springform.
Melt the dark chcoclate au bain marie and stir it briefly
Allow the chocolate to cool for a moment.
Decorate the cheesecake with melted chocolate and eggs.