Ouwehands Dierenpark Rhenen
Grebbeweg 111
3911 AV Rhenen
Read more here
email: info@ouwehand.nl

Opened daily from 9 a.m. to 7 p.m.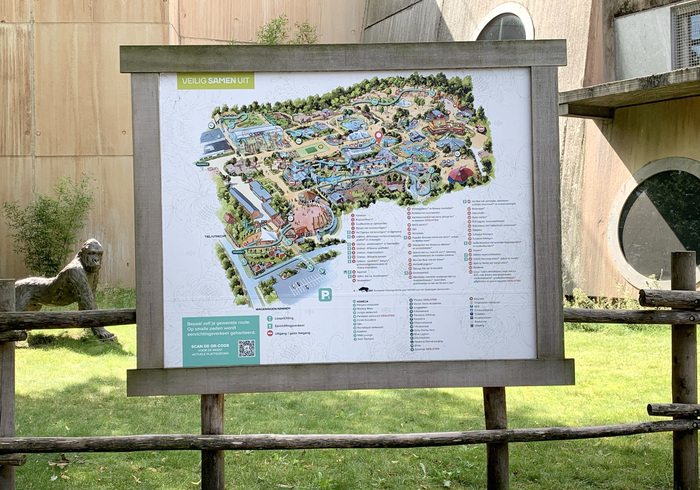 Today we go to Rhenen, to Ouwehand's Zoo where the two Giant Pandas Wu Wen and Xing Ya have been living, since April 2017. Puk loves Pandas since he playes Minecraft and now we are going to see them in real life! Extra fun is that on May 1, 2020 the Pandas had a baby, het name is Fan Xing. Since December last year you can admire the Fan Xing inside and / or outside. Puk can't wait to go!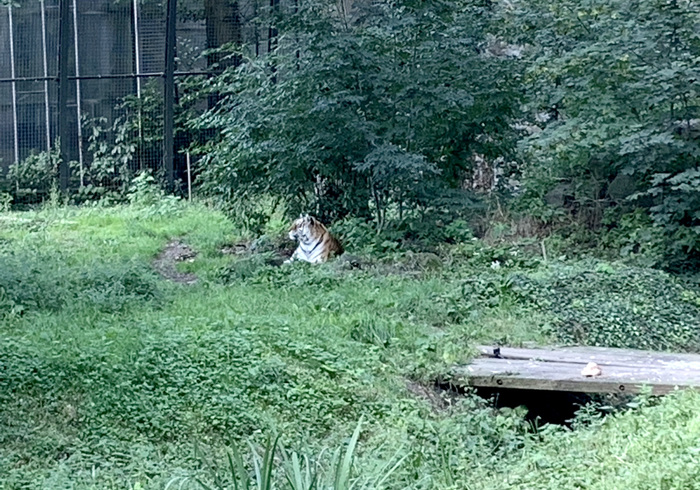 It is very busy when we arrive at the Zoo, despite the time slot, we wait in a long line to get in. But finally we reach the entrance, the online tickets are being scanned and we go inside. The square where you enter is very busy and chaotic, 11.15 am and many people go straight to the terrace for lunch. At the toilets there is a very, very, very long line and everyone is walking to and fro, it's very unsettling. We look at a signpost how to get to the animals.
We already see many animals on the way to the giant pandas. The first being the Siberian tiger, but he is dozing under a tree, very far away. Then we see giraffes, a zebra and the flamingos, they are also very beautiful! But Puk sees them often in Blijdorp, so he would like to continue, because we are on a special Panda mission today.
As real Dutchies we follow the signs but they are very confusing. We walk from one signpost to another, until we find a map. We're not the only ones looking for the Pandas! There is still a lot of confusion amongst the Zoo-visitors. But then we see the pagoda in the distance and we arrive at the Panda residence.
There we see a throng of people standing there with their cameras or mobile phones at the ready, so let's go. And yes, there is Fan Xing, happy outside in the garden. We have to wait a little while but then we can see her very well and she is so cute! She enjoys nibbling on her bamboo and climbs the tree with it. Puk loves her!
We walk in through a beautiful gate and when we reach the top of the lodgings we first see mama Wu Wen. She is sleeping on a deck in a tree, it doesn't look very comfortable but apparently she is not bothered by anything. ;)) Then we walk further and down in the garden we see Fan Xing again, he is also lying on the deck in his tree. Then we look in on daddy Xing Ya. Have a guess at what he is doing, eating bamboo of course!
There is no one here at all, everyone is outside looking at Fan Xing. So we take the opportunity to quickly check if Wu Wen is awake yet. But no, she is still in a deep sleep. Then we walk on to the Panda Shop, so handy that it is right up here. All the kids drag Mom and Dad right in. Puck too of course!
Panda items in abundance, at first we see Panda (school)bags, underwear and socks. But there are also panda cuddly toys, playsets, cars, books, school supplies, tableware & placemats and baby and children's clothes, all with pandas on them. Not surprisingly, it is very busy in the store and also at the checkout. Puk scores a panda book and chooses a Mama panda cuddly toy with child. Back in the park we meet a lot of children with panda cuddly toys, with and without panda child!
Down again we take an automatic picture of Puk with a Giant Panda. Puk climbs on a small platform and you choose on a screen which panda he wants to be in a picture with. You see the photo appear on the screen and you can print it yourself. You pay with your pin and then you can also send the photo to your email address, for free. Awesome!
Then we walk into a billboard with panda ice creams, of course we have to try those while we are here! The soft ice cream is very tasty but Puk doesn't like all the chocolate additives. Luckily you can also have the panda cup with only ice cream. The ice cream cup has a plasticized wrapper with a funny panda head on it. Puk loves it and the wrapper also fits around his school cup, isn't that fun!
Plus!
There are many very beautiful animals but the giant pandas are (rightly so) the attraction for most people, the pandas are really gorgeous!
The garden is very green with beautiful old trees, many lovely plants and colourful flowers, with sun and shade areas
The website is nice and clear, for the little ones there are nice coloring pages that you can download
You can also find a lot of spreekbeurt info (in Dutch) on it and there are quests (in Dutch) on it for when you visit the Zoo
Min
Compliance with the covid rules is not monitored anywhere, it is already going wrong in the queue at the entrance
The signposts are unclear and the map is often crowded and complicated, so you have to wait a long time
Many people have trouble finding their way, we heard people asking each other everywhere, including at the signposts
We are looking for a nice place to sit for a while, you will find them everywhere here. Is not that the cutest Flamingo bench? Here we can enjoy our ice cream and Puk would also like to play in the water playground, which we passed when searching for the pandas.
There are infornmation stands or carts (with dressed up people) driving through Ouwehand's Zoo, which provide all kinds of information about animals. Their names are Doctor Dodo, Philosopher Flamingo, Professor Hop, Researcher Octopus, Professor Panda and Spindoctor Spitsmuis. They attract a lot of the older children, who like to learn about these animals.
On the way out we meet the seals, they are just being fed. We stay for a while, they are so smart and such fun. You can also go in around the corner to see a seal show. There is a lot of enthusiasm for that, but it's not for us.
We will definitely come back to Ouwehand's Dierenpark for another visit. Puk had an awesome day (as he himself puts it) and the animals are more than worthy of another visit!