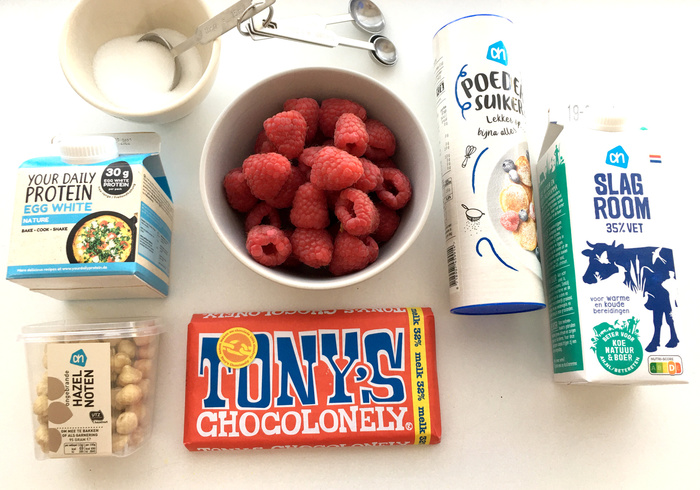 Shopping list
5 medium egg whites
275g caster sugar
75g hazelnuts, roasted and finely chopped
500 ml whipped cream
4 tablespoons caster sugar
100g fresh raspberries
50g melted chocolate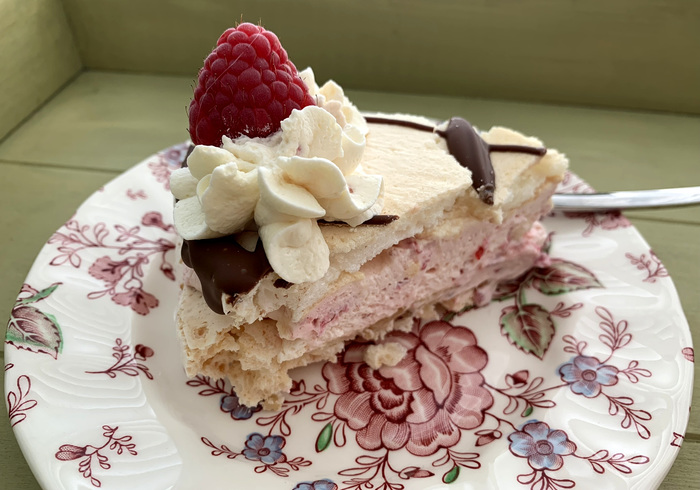 Today we are making a hazelnut meringue with chocolate and raspberries. Nicely fresh and very tasty but a lot of calories indeed! It is a favorite of ours so we just walk those calories off again. We are happy to do that!
How to make a hazelnut meringue with chocolate and raspberries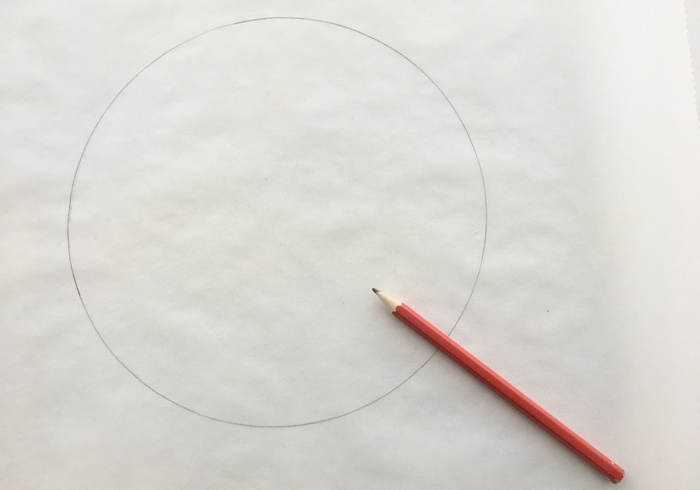 Draw a circle of 20cm on 2 sheets of baking paper.
Roast the hazelnuts in a dry frying pan.
Crush the hazelnuts into small pieces.
Set the hazelnuts aside for the moment.
How to make the meringue
Beat the egg whites until stiff but not dry!
Gradually add the sugar and mix it in.
Mix until the egg whites are thick and glossy.
Then fold in the hazelnuts.
Place the baking paper with the drawings downwards
Preheat the oven to 160°C / 140°C Fan
Fill both circles with egg white.
Place baking paper on top.
Bake the meringue for 30 - 40 minutes.
Until the meringue is slightly coloured.
Leave the meringue to cool completely on the baking tray, it may have light cracks here and there
Place the double cream with the sugar in a mixer
Beat cream and sugar until almost stiff.
Add 75g of raspberries to the cream.
Break the fruit by whisking it briefly.
Place the whipped cream in the refrigerator to stiffen
Spread 400g whipped cream on one of the meringue circles.
Press the second circle lightly on top and place in the fridge.
Chop the chocolate into small pieces.
Melt the chocolate au bain marie.
Drizzle the melted chocolate over the meringue by using a spoon
Decorate the meringue to your liking and let the chocolate set.
Spoon the rest of the cream in a piping bag and pipe in the meringue.
Pipe whipped cream on the meringue and push in the remaining raspberries.