What do you need?
wooden planks
screws
soil (easy kitchengarden mix)
bags of seeds of your choice
saw
screw driver
The kids like to sow or plant fruit and vegetables (and eat it) so we write about our kitchen garden with some regularity. In March / April we sowed the tomatoes indoors, cherry and lampion tomatoes this time and Puk got a sunflower garden at Albert Heijn. So we sowed that too. Now that the Ice Saints are over, the plants can be transferred to the kitchen garden.
We saw a movie on youtube about the Easy Vegetable Garden (Makkelijke Moestuin) with special mixed soil to sow and plant in. We thought it would be fun to see if it really works that well. We had to drive to Rhoon because Intratuin there was the nearest pickup point. But no problem, they had plenty in stock. So we will do some competative research this year!
Now all the soil had to be scooped out anyway and because our vegetable garden became shaded by fast-growing plants, we decided to move the vegetable garden to a sunny spot at the same time. Fortunately we got help from Puk!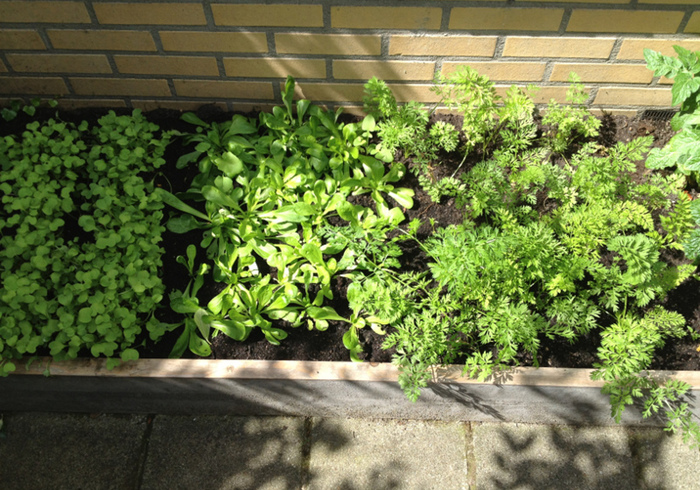 The old garden was build against the wall of our house.
We unscrew the wooden bin and place it against the fence.
We move Garden Mix from the car to the garden.
We race Puk around until he is tired, tomorrow we continue.
Day 2: today we fill the bin with the new planting soil mixture
Puk is excited, today we are going to plant and sew.
First we plant the cucumber plant, it's Puk's favorite plant.
In the left section of the bin grows the raspberry, it can't be moved.
In the middle honeysuckle, right a rose and a blueberry bush.
On the right the sunflower, we saw radish & beets.
In the middle we replant all the tomato plants, from inside.
Left we sew fennel bulbs and summer carrots.
Puk really needs to clean up using his broom.
A close-up of the raspberry, it's looking good.
The blueberry is doing very well too.
The red currants are slowly colouring red.
What fun to see the grape bunches taking shape, already!
We are going to have a lot of fun in our vegetable garden this summer. Later on we will let you know how the plants are doing in the new soil mixture!