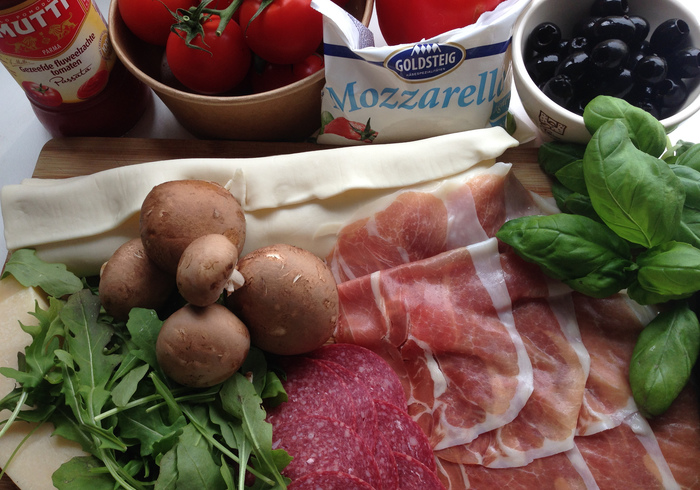 Shopping list
2 rolls of fresh puff pastry
1 big bottle of passata
salt and peper to taste
Margherita topping
300g mozzarella
2 tomatoes, sliced
some basil leaves
Parma ham and rocket topping
50g Parma ham
50g Parmesan cheese, shaved
a handful of rocket
Vegetarian topping
1 red pepper, sliced
1 courgette, sliced
50g chestnut mushrooms, sliced
3 small roma tomatoes, sliced
grated parmesan cheese

Salami/olijven topping
50g salami
a handful black olives
grated parmesan cheese
olive oil
This year, for Father's Day, we make pizza with not 1 but 4 flavors. Because he deserves it, your dad. The pizza's are ready quickly because we use puff pastry instead of pizza dough and they are fun to make with kids. The smallest ones can put the toppings on it.

How to make the Father's Day pizza's
The preparation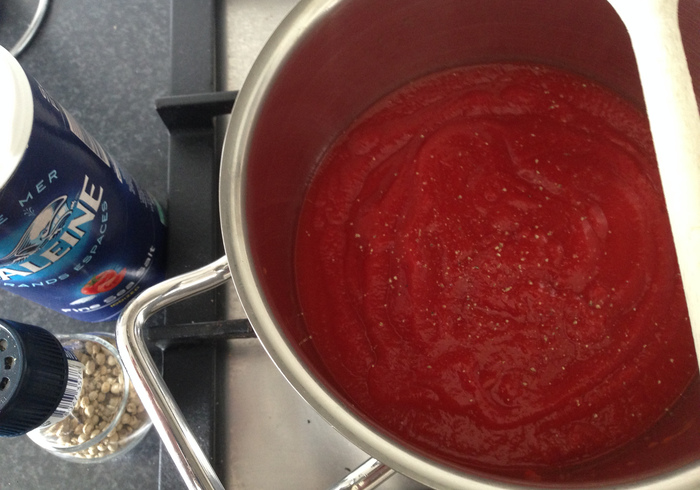 Put the passata in a pan, add salt and pepper to taste.
Wash and slice all vegetables and allow it to drain well.
Shave the cheese and slice the tomatoes too.
Wash the rocket and the herbs too and let it drain well.
Bring the passata to the boil and let it reduce on low heat.
Cut both rolls of puff pastry in half, now you have 4 rectangeles.
Score the pastry all around, about 1 cm from the outer edge.
Place the dough rectangles on 2 sheets of baking paper.
Grate the mozzeralla balls.
Check if the sauce is reduced.
Spread the sauce inside the scores.
Preheat the oven to 180°C
Sprinkle mozzarella on all four pizza's.
Place the vegetables and tomato on pizza 1, bake pizza 2 as it is.
Top pizza 3 with the salami and the black olives.
Top pizza 4 with tomato, it will be the Margherita.
Drizzle some oilve oil on the pizza's and bake them in 25 - 30 minutes golden brown.
Sprinkle shredded basil leaves on the pizza Margherita.
Scatter torn ham, shaved Parmesan an rocket leaves on the plain pizza.
Serve the pizza's with extra virgin olive oil and a grren salad on the side. We wish you lots of fun on Father's Day!