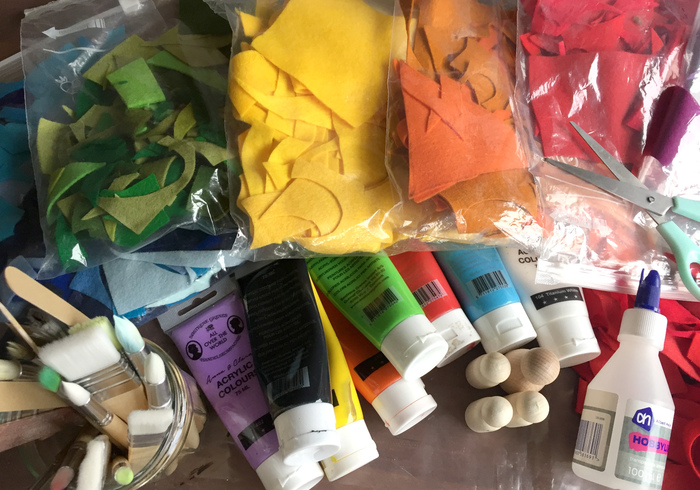 What do you need?
wooden peg dolls
acrylic paint, in various colours
paint brushes
felt, in various colours
matching yarn and needles
scissors
embroidery yarn
embroidery needle
small wooden beads
hobby glue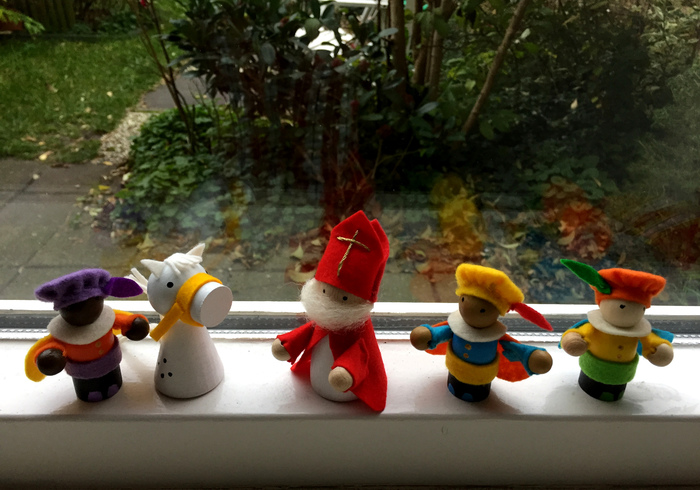 Making peg dolls is so much fun, we just can't resist. At the last minute we quickly make a Sint and Pietjes. This time with mixed techniques ;) painting and sewing. And when we're almost done, we hear that someone very important is missing! Oh no! Yes, Amerigo is missing. We have to make up for that very quickly because what is a Saint Nicholas without his trusty horse?
How to make Sinterklaas, his Pietjes and his horse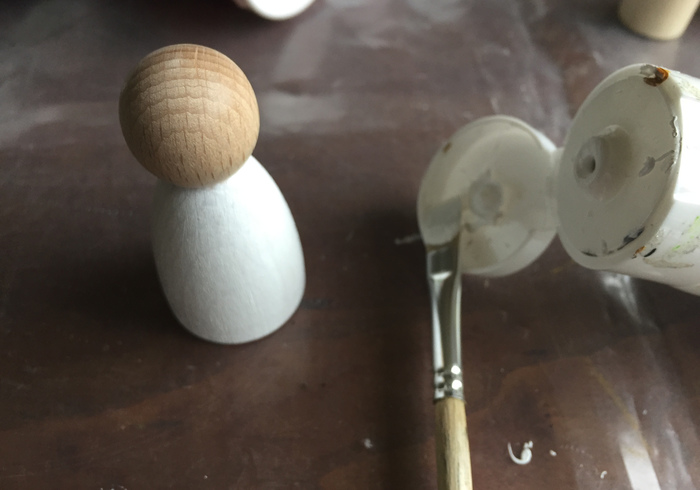 Paint the Sint's body white all around.
Draw a stripe on the Pietje's bodies.
Paint the top half in a fun colour.
Paint the bodies of the other 2 Pietjes a different colour.
Allow the paint to dry well.
Allow the paint to dry well again.
First sew the clothing of Sinterklaas, you can download the patterns on PDF
Cut the mitre (front + back), the coat and two sleeves out of felt
Embroider a cross on 1 part of the mitre.
Place the part upside down on the 2nd part.
Fit the mitre then sew the parts together.
Sew both sleeves closed and sew a bead in each.
Sew the sleeves on the coat.
Stick a beard and mitre on the head.
Allow the glue to dry and start on the Pietjes
Paint the undersides black, the tights, allow to dry.
Paint coloured feet and let the paint dry completely.
Paint the 4 hands in the matching colours, let dry.
The painting is done, we are going to dress the Pietjes!
Cut out all the pattern parts in varuous colours, according to the number of Pietjes you are making.
Fit the felt to make pants.
Sew the pants on the back.
Sew the 'hands' at the end of the sleeves then make the Pietjes collars and hats
Cut out the centre of the collars and try them on.
Sew the hat like in the picture.
Sew the parts of the hat together.
Sew the arms into the cape.
Attacht the cape to the neck.
Sew a feather on the hats.
Stick the hats on the heads.
Make a group picture and done! Oh no, no horse!
Quick! Paint Amerigo and take a new group picture.
Wishing you a Happy Sinterklaas-evening!