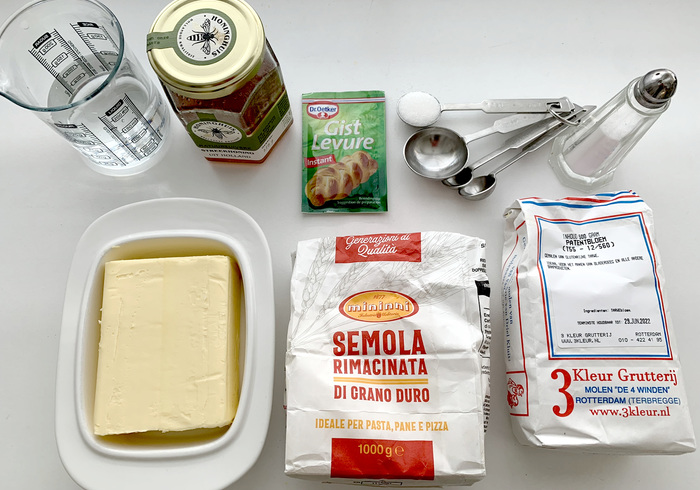 Shopping list
220g all-purpose flour + extra
45g fine semolina
1 teaspoon granulated sugar
1/2 teaspoon kosher salt
¼ teaspoon yeast
125ml warm water, more if needed
125ml vegetable oil
45g fine semolina
25g soft, salted butter
honey syrup and / or jam, for serving
soft salted butter, to serve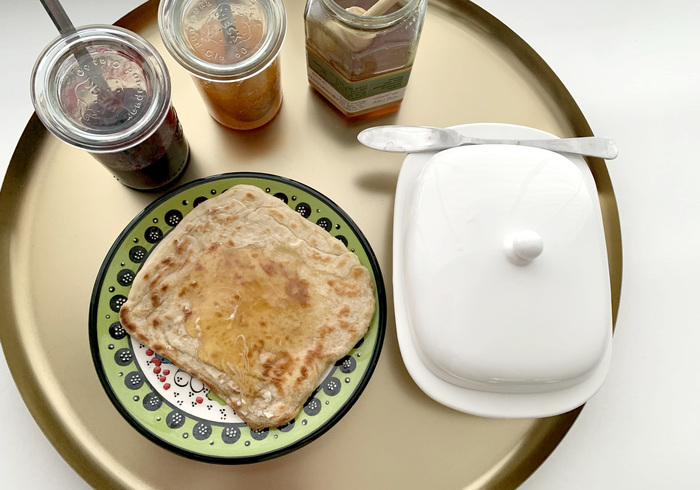 How to make the dough for 10 Msemen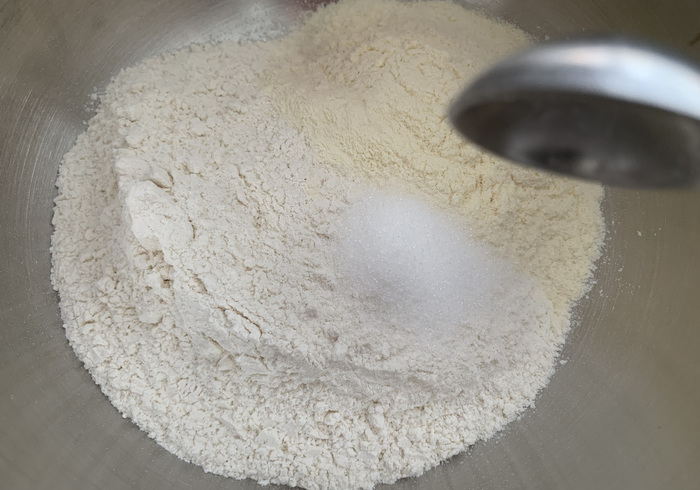 Mix flour, semolina, sugar, salt and yeast in a big bowl.
Add the water and mix into a soft, but not sticky, dough.
Knead the dough 5 minutes in a mixer or food processor.
Sprinkle flour on a baking mat, knead 10 minutes by hand.
Knead with a dough hook (or hooks) if you use a mixer for kneading
How to fold the dough
Spread oil thickly on your clean work surface baking mat or -paper.
Make balls of dough, with well greased hands.
Let the dough rest 10 minutes, covered with greased cling film.
Place a dough ball in the remaining oil
Press it as thinly as you can, with greased hands.
Place tiny pieces of butter on the square of dough.
Sprinkle some semolina flour on top, to prevent sticking.
Fold the right side to the center.
Fold the left side over the right.
Fold the top and bottom side to the center.
Fold all the dough balls into squares.
How to fry Msemen
Heat the frying pan on medium heat
Flatten the square, until twice the size.
Bake the squares, several minutes on each side, until golden.
Place the Msemen on a warm platter, while you fry the remaining ones.
Make a honey syrup by melting equal parts butter and honey in a saucepan.
Serve the Msemen pancakes with the honey (syrup), butter and jam on the side.
Tips!
the dough balls are traditionally the size of apricots
Msemen are often made smaller so 2 fit in the pan at the same time, use 2 pans at the same time if you make large Msemen
you can make Msemen in advance and freeze, then defrost and warm for a few minutes in the oven or microwave
Eid Mubarak!