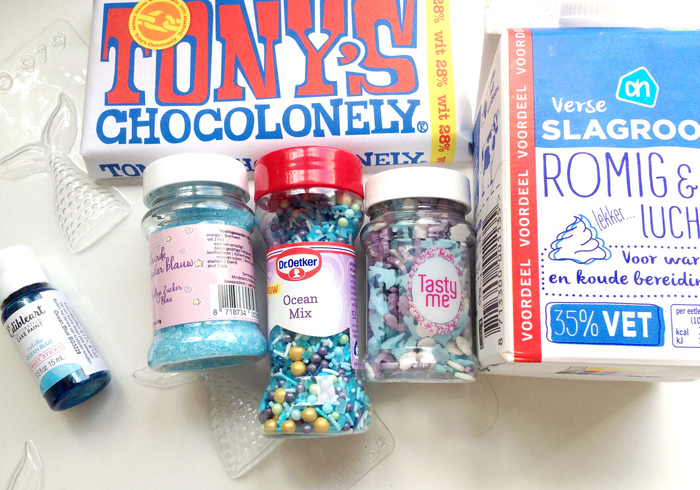 Shopping list
12 cupcakes
250 ml double cream
2 tablespoons fine sugar
blue and / or green food colouring
various blue (ocean) sprinkles
180 gram white chocolate
blue metallic food paint and brush
Turquoise fondant icing
various blue (ocean) sprinkles
Shopping list for cupcakes youn find on the recipe.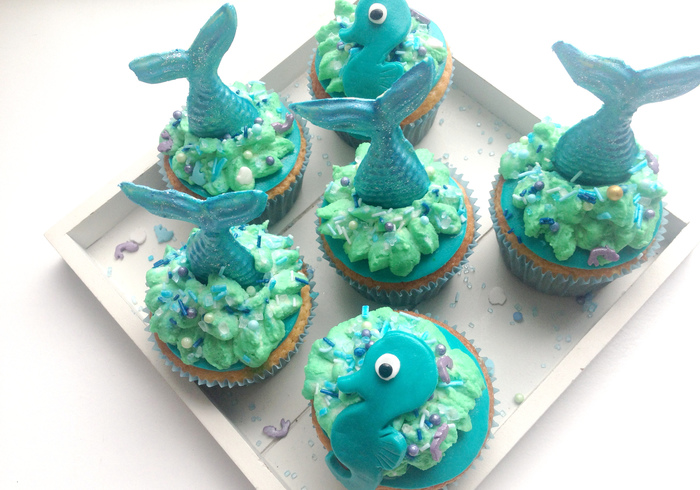 We are not the first but we will certainly not be the last to make mermaid cupcakes. It remains a nice treat for little girls and boys. Especially with all the funny, edible sprinkles and tails to decorate them! The mini monsters are happy to help!

Please mind! This recipe takes 2 days to make so start on time!

How to make mermaid cupcakes
Melt 60g of the white chocolate slowly au bain marie.
Spoon the chocolate into the mold then tap it gently on the counter.
Allow the chocolate tails to set overnight in the fridge.
Day 2
You often see that mermaid cupcakes are coloUred blue or green. You can do this easily by adding a drop of blue or green food coloring to the cake batter when ready. Our mini-monsters prefer to eat vanilla cupcakes, just yellow;)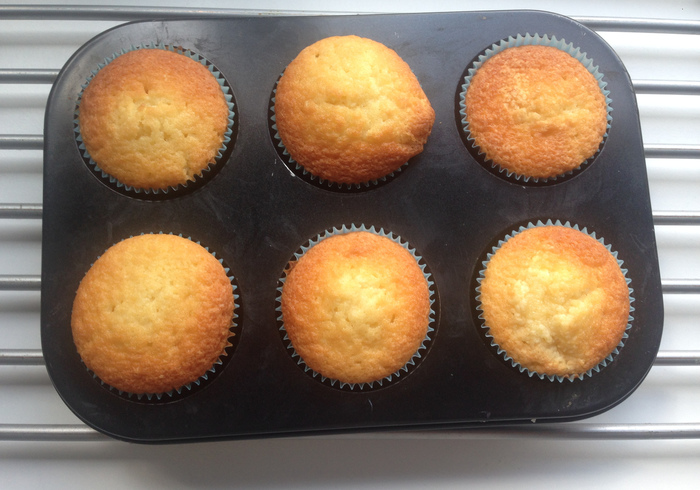 Download then bake the cupcakes with our basic recipe.
Whip the cream until stiff with klopfix, we do colour the cream.
Whisk a drop of blue and/or green food colouring into the cream.
Paint the tails blue, sprinkle glitter on the wet paint.
Please mind! Allow the paint on the tails to dry thoroughly before you stick them in the whipped cream!
Cut circles from fondant icing, stick them on.
Spoon the cream into a piping bag.
Pipe the cream in waves on the cupcakes.
Stick the tails in and scatter sprinkles on.